This article does not cite its references or sources.
Please help improve this article by introducing appropriate citations. This article has been tagged since 17:14, April 13, 2013 (UTC). If you are using this information for your own research, campaign or general interest, you should not rely on its accuracy.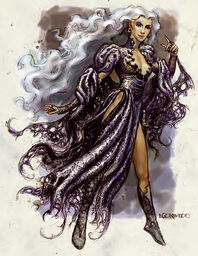 Chaotic neutral is freedom from both society's restrictions and a do-gooder's zeal. In 4th edition mechanics for Dungeons & Dragons chaotic neutral is found under the umbrella of the unaligned alignment.
A chaotic neutral character follows their whims. They are an individualist first and last. They value their own liberty but does not strive to protect the freedom of others. They avoid authority, resents restrictions, and challenge traditions. A chaotic neutral character doesn't intentionally disrupt organizations as part of a campaign of anarchy. To do so, they would have to be motivated either by good (and a desire to liberate others) or by evil (and a desire to make others suffer). A chaotic neutral character may be unpredictable, but their behaviour is not totally random. They are not as likely to jump off a bridge as to cross it.
A wandering rogue who lives both by work for hire and petty theft is an example of a chaotic neutral character.
Opposing alignment
Edit
A chaotic neutral character dislikes laws and regards them as restrictions on their freedom. Lawful neutral characters are obsessed with guidelines and restrictions, and follow these codes to the letter. These two alignments are opposites.
Characters
Edit
Some of the characters identified as chaotic neutral in the Forgotten Realms setting include: