This article does not cite its references or sources.
Please help improve this article by introducing appropriate citations. This article has been tagged since 17:10, April 19, 2011 (UTC). If you are using this information for your own research, campaign or general interest, you should not rely on its accuracy.
Cynosure was a small plane located very close―cosmologically speaking―to Toril. It was a plane only accessible to deities, and they could only access it from within their own domains. The plane was considered neutral ground by all the powers of Faerûn, and was used as a meeting ground to settle disputes[1] and decide upon punishments for those deities who upset the Balance (as defined by the guidelines Ao left).
The only way in and out of Cynosure was through the portals leading to each deity's realm, and it could not be accessed by spells that normally allowed planar travel, so the plane could not be used as a way station as Toril could. There could at times be several deities meeting in Cynosure, and yet other times the demiplane lay empty for extended periods of time.[2]
While portals from Cynosure led to the realms of the Elemental Lords, none of them had ever been known to appear on the meeting plane.
References
Edit
↑ 1.0 1.1 Bruce R. Cordell, Ed Greenwood, Chris Sims (August 2008). Forgotten Realms Campaign Guide. (Wizards of the Coast), pp. 62–63. ISBN 978-0-7869-4924-3.
↑ 2.0 2.1 Richard Baker, James Wyatt (March 2004). Player's Guide to Faerûn. (Wizards of the Coast), pp. 148,165. ISBN 0-7869-3134-5.
↑ Jeff Grubb, Bruce R. Cordell, David Noonan (September 2001). Manual of the Planes 3rd edition. (Wizards of the Coast), p. 158. ISBN 0-7869-1850-8.
Connections
Edit
---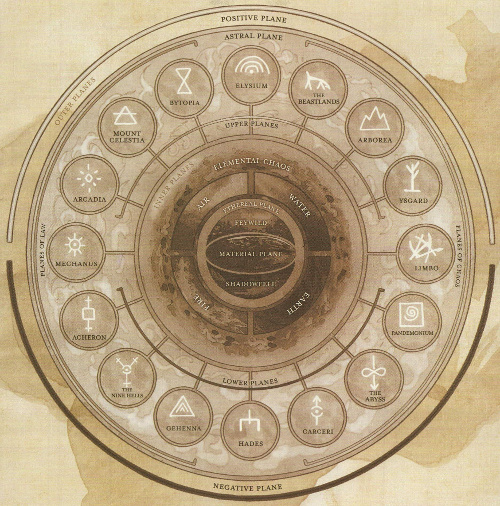 Prime Material plane • Feywild • Shadowfell
Transitive Planes: Astral Plane • Ethereal plane
Inner Planes: Elemental Plane of Air • Elemental Plane of Water • Elemental Plane of Earth • Elemental Plane of Fire • Elemental Chaos
Para-Elemental Planes: Frostfell • Swamp of Oblivion • Fountains of Creation • Great Conflagration
Quasi-Elemental Planes: Lightning • Radiance • Minerals • Steam • Vacuum • Ash • Dust • Salt
Outlands: Sigil
Outer Planes: Arcadia • Mount Celestia • Bytopia • Elysium • Beastlands • Arborea • Ysgard • Limbo •
Pandemonium • Abyss (Layers) • Carceri • Hades • Gehenna • Nine Hells • Acheron • Mechanus
Energy planes: Positive Energy plane • Negative Energy plane
Far Realm
---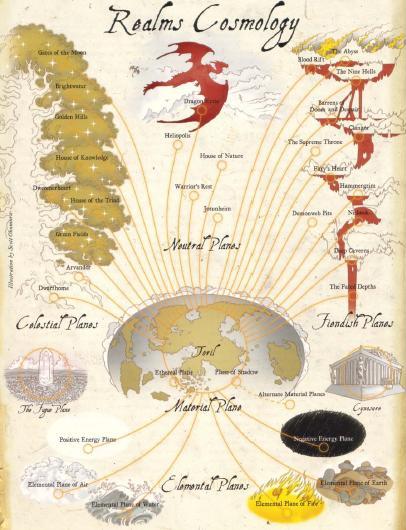 Prime Material plane • Cynosure • Fugue Plane
Transitive Planes: Astral Plane • Ethereal plane • Plane of Shadow
Celestial Outer Planes: Arvandor • Brightwater • Dwarfhome • Dweomerheart • Gates of the Moon • Golden Hills • Green Fields • House of Knowledge • House of the Triad
Fiendish Outer Planes: Abyss (Layers) • Barrens of Doom and Despair • Blood Rift • Clangor • Deep Caverns • Demonweb Pits • Fated Depths • Fury's Heart • Hammergrim • Nine Hells • Nishrek • Supreme Throne
Neutral Outer Planes: Dragon Eyrie • Heliopolis • House of Nature • Jotunheim • Warrior's Rest
Inner Planes: Elemental Plane of Air • Elemental Plane of Earth • Elemental Plane of Fire • Elemental Plane of Water • Positive Energy plane • Negative Energy plane
Far Realm
---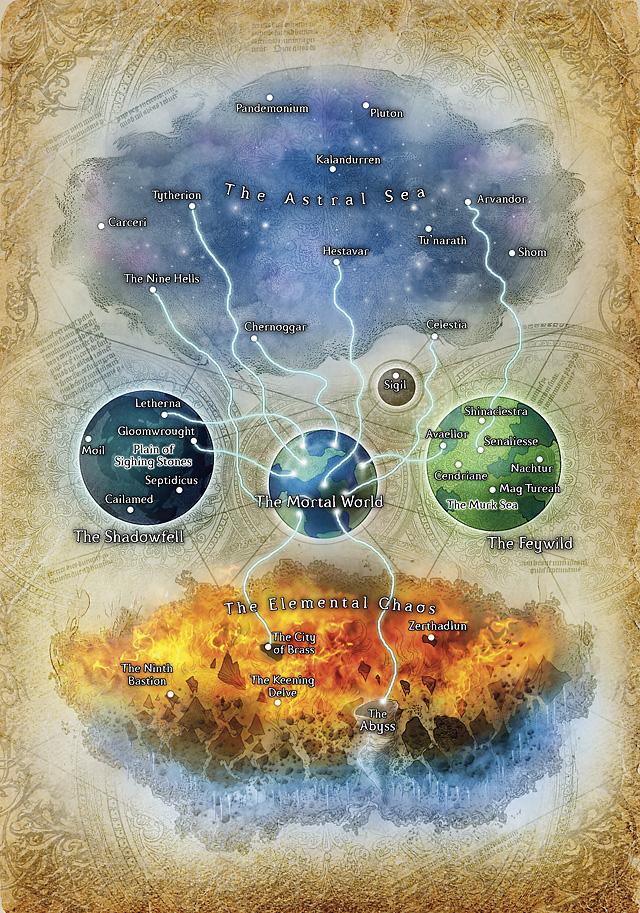 Prime Material plane
Fundamental planes: Astral Sea • Elemental Chaos
Astral dominions: Arvandor • Banehold • Celestia • Cynosure • Deep Wilds • Demonweb Pits • Dismal Caverns • Dwarfhome • Eternal Sun • Fugue Plane • Gates of the Moon • Green Fields • House of Knowledge • Nine Hells • Nishrek • Supreme Throne • Towers of Night • Tu'narath • Warrior's Rest
Elemental realms: Abyss (Layers) • City of Brass • Cresting Spires • Fimbulwinter • Hidden Realm • Muspelheim • Root Hold • Sky Home • Steading • Throator • Undying Pyre • Zerthadlun
Parallel planes: Feywild • Shadowfell
Anomalous planes: Far Realm