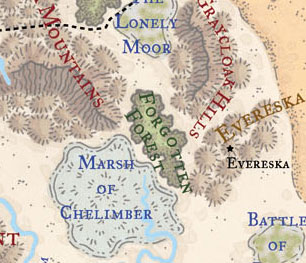 The Forgotten Forest lies in a vale between Evereska's Shaeradim to the east, and the Graypeak Mountains forty miles to the west. The Marsh of Chelimber is south of the forest, and to the north are the Lonely Vale and the Graycloak Hills.[1]
References
Edit
↑ Richard Baker (August 2004). Forsaken House. (Wizards of the Coast), p. 174. ISBN 0-7869-3260-0.
Ad blocker interference detected!
Wikia is a free-to-use site that makes money from advertising. We have a modified experience for viewers using ad blockers

Wikia is not accessible if you've made further modifications. Remove the custom ad blocker rule(s) and the page will load as expected.