High Hedge was the home of the wizard Thalantyr, which was situated northwest of Beregost.[2]
Structure
Edit
Thalantyr the Conjurer's estate was a dark, turreted stone building overgrown with pines. It overlooked a pond, which the wizard used to sit near and speak to something beneath the surface.[1]
The house was defended by two griffons, who were a mating pair and strongly loyal to Thalantyr. His home was also protected by an invisible servant, who was known to spy and deliver information and objects to the wizard.[1]
Appearances
Edit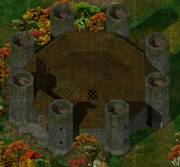 In the Baldur's Gate game, the player could visit Thalantyr in High Hedge, although the estate was guarded by a pair of flesh golems, not griffons, who could only be harmed by magical weapons. Inside the manor was a large, rapidly rotating crystal surrounded by symbols of the four elements; fire, air, earth, and water.[3]
References
Edit
↑ 1.0 1.1 1.2 Ed Greenwood (1994). Volo's Guide to the Sword Coast. (TSR, Inc), pp. 28–29. ISBN 1-5607-6940-1.
↑ Ed Greenwood (1994). Volo's Guide to the Sword Coast. (TSR, Inc), p. 225. ISBN 1-5607-6940-1.
↑ BioWare (1998). James Ohlen, Ray Muzyka. Baldur's Gate. Black Isle Studios.
External links
Edit
Ad blocker interference detected!
Wikia is a free-to-use site that makes money from advertising. We have a modified experience for viewers using ad blockers

Wikia is not accessible if you've made further modifications. Remove the custom ad blocker rule(s) and the page will load as expected.