Hill giant
Talk

0
12,742pages on
this wiki
Hill giants are giants of low intelligence that live in hilly areas. They speak Jotunhaug and Jotun.[1]
Physical description
Edit
Hill giants are short and stocky in comparison to other giants they are extremely muscular capable of hurling boulders up to 300 lbs through the air. The reason hill giants appear to be more muscular than other giants its because of their shorter limbs but the taller giants such as fomorians are still much more powerful.
A hill giant's metabolism is very high, and as a result, it must eat a great quantity of food for a creature of its type. It is not averse to eating demihumans, but will eat almost anything.[2]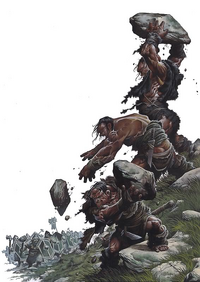 In hill giant society, the most evil act that can be committed is a betrayal of one's tribe.[3] A hill giant family (a huslyder) is usually large and communal.[4] The ordning (social ranking) of hill giants is determined by a combination of an individual's physical strength and eating ability.[5]
References
Edit