Lliira
Talk

0
13,900pages on
this wiki
Lliira (pronounced LEER-ah)[2], also known as Our Lady of Joy, was a good exarch (formerly a lesser deity) of Sune responsible for the sphere of joy[3], and for the domains of chaos, charm, family, good and travel.[2]
Worshipers
Edit
Priests and priestesses of Lliira, called "Joydancers"[3], were the apple of her eye. They were entrusted with leadership and tasked as plan-makers of festivals.
Followers of Lliira were called Lliirans and wore brightly colored outfits, and adorned themselves with
rubies
and
sapphires
. They were known for always having a smile on their lips; it was unheard of to see one with a frown.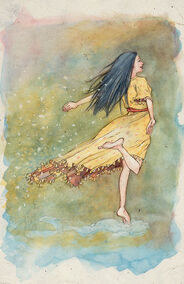 References
Edit
↑ Ed Greenwood, Sean K. Reynolds, Skip Williams, Rob Heinsoo (June 2001). Forgotten Realms Campaign Setting 3rd edition, p. 235. Wizards of the Coast. ISBN 0-7869-1836-5.
↑ 2.0 2.1 Eric L. Boyd, Erik Mona (May 2002). Faiths and Pantheons, p. 99–100. Wizards of the Coast. ISBN 0-7869-2759-3.
↑ 3.0 3.1 Bruce R. Cordell, Ed Greenwood, Chris Sims (August 2008). Forgotten Realms Campaign Guide, p. 81. Wizards of the Coast. ISBN 978-0-7869-4924-3.
↑ Greenwood, Ed. The Scarlet Mummers (HTML). Retrieved on 2008-07-14.