Featured article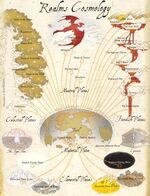 Cosmology
is the study of the structure, organization, and composition of all the planes of existence, and the
World Tree cosmology
model was one interpretation of the multiverse, attempting to reduce the complexity and sheer volume of information into concepts that were understandable and even useful to the brave, the curious, and the ambitious. First outlined in
the Year of Wild Magic, 1372 DR
, the World Tree cosmology model quickly overshadowed the previous
Great Wheel model
upon the discovery of an interplanar sentient tree-like being that acted as a conduit between a select group of planes. Dubbed the
World Tree
, it connected only to planes with the
Good
alignment trait
and allowed passage only to those with a good and noble reason for their journey.
The concept of Inner and Outer Planes carried over from the Great Wheel model, with the Inner Planes (comprising the elemental planes plus the energy planes) remaining essentially unchanged, except they were accessed via the Astral Plane rather than the Ethereal. The Outer Planes increased in number from seventeen to twenty one and finally to twenty six, losing most of their interconnections. All Outer Plane travel was restricted to passing through the Prime Material Plane or along one of two cross-planar features: the aforementioned World Tree, or the River of Blood (formerly known as the river Styx).
Two other planes were discovered but were for all intents and purposes inaccessible to mortals: the Fugue Plane and Cynosure. Cynosure was a small demiplane which only the gods and their immortal servants could access. It was neutral ground for meetings and negotiations between the Powers. The Fugue Plane was the way station for the souls of the deceased while they awaited judgment and (hopefully) transportation to the realm of their patron deity.
Featured source
The
AD&D Trading Cards
are a range of trading cards published by
TSR, Inc.
between 1991 and 1993. They were first introduced by
James Ward
in
Dragon #160
, with an insert of 17 cards, mostly based on popular characters from various
AD&D
novels and video games, and were intended to test the waters for a potential trading card product line. These proved popular, and more cards were produced. They were released in three separate yearly sets, and each set consisted of two different series. The 1992 and 1993 sets include additional promotional and rare cards.
The cards adhere to 2nd-edition Advanced Dungeons & Dragons rules, and present popular characters, creatures, and items from many of TSR's game worlds, including the Forgotten Realms, Dark Sun, and Greyhawk settings, as well as new creations found nowhere else. The front of each card features artwork either re-used from other TSR products or original to the Trading Cards range. These images were outlined by a solid color that indicated series and rarity. The backs presented short blurbs and rules information.
Recent releases
Frost Giant's Fury #3
by
Jim Zub
with art by
Netho Diaz
is a comic published by
IDW Publishing
in May 2017.
Set in the Spine of the World, it sees the sorceress Delina and the warrior Minsc ascend a treacherous ice-covered mountain to confront a vicious and quick-tempered white dragon as they try to uncover the plots of evil frost giants.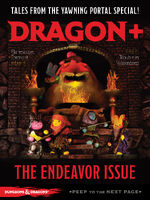 Dragon+ #13
was released on April 28th, 2017.
This issue contained a number of short fiction works to accompany the adventures in Tales from the Yawning Portal, including the Forgotten Realms–set Dead in Thay.
In addition, Volothamp Geddarm tells of Durnan and the Yawning Portal inn.
Today in the Realms...
...it is 24 Kythorn, or the 24th of the Time of Flowers. On this day:
Realmslore
And, from the archives:
Featured image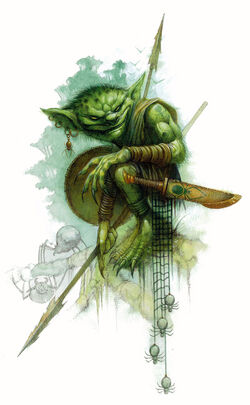 A jungle-dwelling
tasloi
.
Welcome
Well met, traveler! This wiki covers the rich and popular Forgotten Realms campaign setting for Dungeons & Dragons from TSR, Inc. and Wizards of the Coast, including Realmslore from the Oriental Adventures, Al-Qadim, Maztica, The Horde, Planescape, and Spelljammmer settings, covering sourcebooks, novels, video games, comics, and more across all editions. See the aims and scope of this wiki here.
Helping Hand
Need help, have a request, or found something not right? Then post a query in the forum, make a request here, or contact an admin.
Note (Refresh): Copied text is not accepted on this wiki.
Beware: This wiki does not provide spoiler warnings.
Contents  
Realmslore
Media
Crunch
Helping out
Well met, sage! Do you see an error? Maybe you know of some missing lore? Perhaps you want to write an article about a favorite subject? Or maybe you want to really get involved. Don't be shy, click "edit" and get in there! If you're new to wikis, then check out the Wikia tutorial. Look at some of the following links to learn about the Forgotten Realms Wiki, how we do things here, and see some of our recent work. Don't worry about making a mistake, experienced editors will catch it and fix it. Just remember we accept only canon and licensed lore, not homebrew or player characters. Don't just copy out the sourcebook, write in your own words. Finally, always give a source for your information, and explain what you've done in the "summary" box. Happy scribing!
| | | |
| --- | --- | --- |
| Getting involved | Things to do | Community |
Ad blocker interference detected!
Wikia is a free-to-use site that makes money from advertising. We have a modified experience for viewers using ad blockers

Wikia is not accessible if you've made further modifications. Remove the custom ad blocker rule(s) and the page will load as expected.