Featured article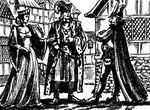 Wheloon
was a small city in the kingdom of
Cormyr
, lying where the
Way of the Manticore
crossed the
Wyvernflow River
. A town sprawling across both sides of the river, it was sometimes nicknamed the "Jade Towers" for its ubiquitous green slate roof tiles. Wheloon grew up around the
Wyvern Ferry crossing
, linking Cormyr's two busiest trade routes, and becoming one of the kingdom's most prosperous and industrious towns. It was famous for its talented craftsfolk and entrepreneurs, who built boats and wagons, fashioned baskets, grew fruit and other foodstuffs, bred pets, and created cheap transport companies.
Though it once was the site of a battle with the Witch Lords and was one of those places conquered by the Lost King Gondegal, Wheloon oft-enjoyed only a small role in Cormyr's history, thanks to rulers like Lord Sarp Redbeard who worked for the good of Wheloon, rather than that of the crown. Unfortunately, it later hosted a false temple to Mystra, which was found to be a front for cultists of Shar, and was eventually turned into a prison city for Shar worshipers and Shadovar, and its cobbled streets came to be dominated by gangs of rogues.
Featured source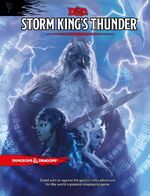 Storm King's Thunder
is an adventure module and sourcebook for the
Forgotten Realms
using the 5th-edition ruleset of
Dungeons & Dragons
. Set in the
Savage Frontier
region of the late 15th century
DR
, it pits players against
giants
of many varieties.
"
To Fight Giants, You Must Be Giant

Ages ago, giants and dragons waged war across the Savage Frontier. These battles are long forgotten by the human civilizations of today, but ancient relics remain. And now, the land shudders once more with the thunder of giant footsteps.

Hill giants raid farms for food and livestock, as stone giants lay waste to settlements in their path. Frost giants plunder coastal towns, as fire giants gather slaves. Cloud giant castles drift across the sky, casting ominous shadows on the cities of the North. But no threat compares to the wrath of the storm giants, who stand betrayed.

Puny adventurers must rise to the challenge, gather their strength, unlock the power of ancient runes, and take the fight to the giants' doorsteps. Only then can they discover a hidden evil fomenting a war between giants and small folk. Only then can they forge an alliance to end the war before it begins.

A Dungeons & Dragons® adventure for characters of levels 1–10. For use with the fifth edition Player's Handbook®, Monster Manual®, and Dungeon Master's Guide®.

"
Recent releases
Dragon+ #14
was released on June 28, 2017.
The issue presents previews to the upcoming adventure Tomb of Annihilation, with a short story prelude and information about various people and places in Chult.
It also gives a sample of the Frost Giant's Fury #3 comic, and a flashback to 1979: Dragon #26's Bazaar of the Bizarre article, "The Path to Lichdom".
Idle Champions of the Forgotten Realms
from
Codename Entertainment
is an upcoming free-to-play PC game due to be released on the
Steam
platform sometime in 2017.
Players are expected to guide their "Champions" through the Sword Coast, utilizing formation tactics and their Champions' abilities in conjunction with each other, unlock new equipment and new Champions, and grow in power. Champions are being announced periodically, with Minsc & Boo, Delina, Bruenor, and Celeste currently announced.
Xanathar's Guide to Everything
is a 5th-edition
Dungeons & Dragons
sourcebook in the
Forgotten Realms
. It is due to be released in November, 2017.
| | | |
| --- | --- | --- |
| " | Assembled here for the first time is new information on adventurers of every stripe. In addition, you'll find valuable advice for those of nefarious intent who must deal with such meddling do-gooders, including the Xanathar's personal thoughts on how to dispatch anyone foolish enough to interfere with his business dealings. Alongside observations on "heroes" themselves, the beholder fills the pages of this tome with his personal thoughts on tricks, traps, and even treasures and how they can be put to villainous use. | " |
Today in the Realms...
...it is 18 Eleasis, or the 18th of Highsun. On this day:
Realmslore
And, from the archives:
Welcome
Well met, traveler! This wiki covers the rich and popular Forgotten Realms campaign setting for Dungeons & Dragons from TSR, Inc. and Wizards of the Coast, including Realmslore from the Oriental Adventures, Al-Qadim, Maztica, The Horde, Planescape, and Spelljammmer settings, covering sourcebooks, novels, video games, comics, and more across all editions. See the aims and scope of this wiki here.
Helping Hand
Need help, have a request, or found something not right? Then post a query in the forum, make a request here, or contact an admin.
Note (Refresh): Write in past tense and provide dates.
Beware: This wiki does not provide spoiler warnings.
Contents  
Realmslore
Media
Crunch
Helping out
Well met, sage! Do you see an error? Maybe you know of some missing lore? Perhaps you want to write an article about a favorite subject? Or maybe you want to really get involved. Don't be shy, click "edit" and get in there! If you're new to wikis, then check out the Wikia tutorial. Look at some of the following links to learn about the Forgotten Realms Wiki, how we do things here, and see some of our recent work. Don't worry about making a mistake, experienced editors will catch it and fix it. Just remember we accept only canon and licensed lore, not homebrew or player characters. Don't just copy out the sourcebook, write in your own words. Finally, always give a source for your information, and explain what you've done in the "summary" box. Happy scribing!
| | | |
| --- | --- | --- |
| Getting involved | Things to do | Community |
Ad blocker interference detected!
Wikia is a free-to-use site that makes money from advertising. We have a modified experience for viewers using ad blockers

Wikia is not accessible if you've made further modifications. Remove the custom ad blocker rule(s) and the page will load as expected.