Home
Talk

175
14,148pages on
this wiki
Today in the Realms...
...it is 27 Uktar, or the 27th of the Rotting.   
Featured article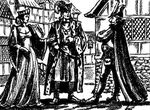 Wheloon
was a small city in the kingdom of
Cormyr
, lying where the
Way of the Manticore
crossed the
Wyvernflow River
. A town sprawling across both sides of the river, it was sometimes nicknamed the "Jade Towers" for its ubiquitous green slate roof tiles. Wheloon grew up around the
Wyvern Ferry crossing
, linking Cormyr's two busiest trade routes, and becoming one of the kingdom's most prosperous and industrious towns. It was famous for its talented craftsfolk and entrepreneurs, who built boats and wagons, fashioned baskets, grew fruit and other foodstuffs, bred pets, and created cheap transport companies.
Though it once was the site of a battle with the Witch Lords and was one of those places conquered by the Lost King Gondegal, Wheloon oft-enjoyed only a small role in Cormyr's history, thanks to rulers like Lord Sarp Redbeard who worked for the good of Wheloon, rather than that of the crown. Unfortunately, it later hosted a false temple to Mystra, which was found to be a front for cultists of Shar, and was eventually turned into a prison city for Shar worshipers and Shadovar, and its cobbled streets came to be dominated by gangs of rogues.
Featured source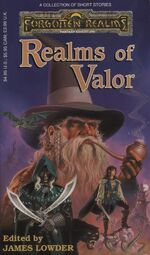 Realms of Valor
was the first anthology of short stories from the
Forgotten Realms
, published in 1993. It was edited by
James Lowder
and features stories from many contemporary authors of
Forgotten Realms
novels, as well as many of their characters, in adventures tied in to recent novels and Realms events, including a
Ravenloft
cross-over. In the Afterword,
Jeff Grubb
presents a short history of the development of the
Forgotten Realms
to that point.
It includes:
"The Lord of Lowhill" by Douglas Niles • "Elminster at the Magefair" by Ed Greenwood • "One Last Drink" by Christie Golden • "The Bargain" by Elaine Cunningham • "Patronage" by David Cook • "A Virtue by Reflection" by Scott Ciencin • "King's Tear" by Mark Anthony • "The Family Business" by James Lowder • "Grandfather's Toys" by Jean Rabe • "The Curse of Tegea" by Troy Denning • "Dark Mirror" by R. A. Salvatore
| | | |
| --- | --- | --- |
| " | From the secret annals of Realms history come eleven never-before-published tales of valor, featuring the greatest heroes of that magical world—Drizzt Do'Urden, Arilyn Moonblade, Adon, Elminster of Shadowdale, Jander Sunstar, and many others—told by your favorite authors, including: R. A. Salvatore, Ed Greenwood, Douglas Niles, Troy Denning, Christie Golden, and others. | " |
Did you know...
And, from the archives, did you know...
Tournament!

Hear ye, hear ye! Quiet in back! The
Heralds of Faerûn
hereby announce that, to celebrate the upcoming release of the
Middle-earth: Shadow of Mordor
video game, the
Shadow of Mordor Wikia
has issued formal challenges to the wikis of the cosmos, pitting their champions in head-to-head contests of popularity and strength of arms. The Forgotten Realms Wiki has accepted this challenge as a test of honor.
Drizzt Do'Urden, much-loved renegade drow ranger and master of dual scimitars, of some 26 years' fame, is now facing Talion, the risen Ranger of Gondor and skilled swordsman, at yet untested.
Let it also be known that our sister wiki, the Baldur's Gate Wiki has also accepted a challenge, and that Viconia DeVir, drow priestess of Shar, is facing Galadriel, the elven Lady of Lórien.
Show your support and click your acclaim for your favorite heroes. We're sure ye'll choose wisely.
We're pleased to announce that the ranger of Icewind Dale has a clear lead over the Ranger of Gondor.
Featured image
Mulsantir
in the
Plane of Shadow
. Temple of
Myrkul
in the distance.

"
Knowledge of our world is to be nurtured like a precious flower, for it is the most precious thing we have. Wherefore guard the word written and heed words unwritten—and set them down ere they fade.
"
 
— Alaundo of Candlekeep
Contents  
Realmslore
Media
Crunch
Helping out
Well met, sage! Do you see an error? Maybe you know of some missing lore? Perhaps you want to write an article about a favorite subject? Or maybe you want to really get involved. Don't be shy, click "edit" and get in there! If you're new to wikis, then check out the Wikia tutorial. Look at some of the following links to learn about the Forgotten Realms Wiki, how we do things here, and see some of our recent work. Don't worry about making a mistake, experienced editors will catch it and fix it. Just remember we accept only canon and licensed lore, not homebrew or player characters. Don't just copy out the sourcebook, write in your own words. Finally, always give a source for your information, and explain what you've done in the "summary" box. Happy scribing!
| | | |
| --- | --- | --- |
| Getting involved | Things to do | Community |