Featured Article
Larloch
was a
Netherese
male
human
and a
lich
. He was the former Sorcerer-King of the enclave of
Jiksidur
in ancient
Netheril
and later the master of the
Warlock's Crypt
and Shadow King of its undead inhabitants. He was one of the oldest non-
draconic
beings in
Faerûn
and one of its most powerful mages, as well as one of the few surviving Netherese sorcerer-kings.
A lich of extreme age, Larloch's body was greatly decayed, leaving only his white-boned skeleton, with two orbs of red light in place of eyes. Streaks of emerald energy moved about his body, and at least two dozen ioun stones floated around his skull. He was also insane, his mind affected by his extreme age. Sometimes he could be calm and even whimsical. Other times he was crazed, snarling and launching spells at random.
Larloch possessed incredible power and was a superintelligent genius. He sought only greater arcane Art and was a talented and cunning inventor of new spells, magic items, and magical techniques and strategies. He forged the Death Moon Orb artifact. He was a master of curse magic, and modified many of his own spells and abilities in surprising ways. He enjoyed inflicting horrible transformations and curses on those who failed him or trespassed in his tower. He also performed cruel necromantic experiments on captured travelers.
Featured Source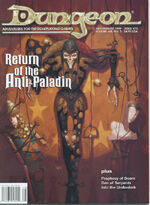 Dungeon magazine #75
was the 75th issue of
Dungeon magazine
. It was released in July 1999.
It contains the Realms adventure "Into the Nest of Vipers", by Matthew G. Adkins, with artwork by Fred Rawles and cartography by Craig Zipse.
| | | |
| --- | --- | --- |
| " | A Priest of Talona has concocted the deadliest poison, and this Assassin's Guild is willing to kill for it. | " |
This adventure is set in the Vast in 1369 DR, using 2nd edition rules. Calispar Delgorth, a priest of Talona, works with the Vipers bandit gang from their hideout in the Brynwood to test a magic-resistant poison on the people of the hamlet of Sevenecho. Adventurers are asked by High Priest Randolph dul Umast of the local temple of Tymora, The Lady's Favor, to brave the Brynwood and seek a cure for the poison.
New & Upcoming Releases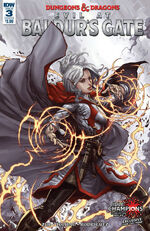 Evil at Baldur's Gate 3
by
Jim Zub
and drawn by
Harvey Tolibao
is the third issue of a new comics series from
IDW Publishing
, published June 2018.
| | | |
| --- | --- | --- |
| " | The Baldur's Gate heroes return to the city at last, but their time adventuring in Ravenloft and the frozen northern reaches of the Realms have changed them. Each of them must face great trials ahead before they'll be ready to embrace their destiny. Delina searches for something to cure her wild magic, but the solution she seeks plunges her into danger unlike anything she's faced before. | " |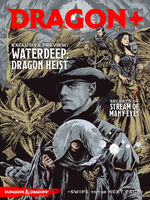 Dragon+ 20
was released on June 7, 2018.
For the Forgotten Realms, this issue presents a preview of Waterdeep: Dragon Heist, some reprints of classic Dragon magazine articles, several maps from recent adventures, and a pair of short stories: "Lord of the Darkways" and "Secrets of the Deep".
Today in the Realms...
...it is 14 Eleasis, or the 14th of Highsun.   
Realmslore
And, from the archives:
Welcome
Well met, traveler! This wiki covers the rich and popular Forgotten Realms campaign setting for Dungeons & Dragons from TSR, Inc. and Wizards of the Coast, including Realmslore from the Oriental Adventures, Al-Qadim, Maztica, The Horde, Planescape, and Spelljammmer settings, covering sourcebooks, novels, video games, comics, and more across all editions. See the aims and scope of this wiki here.
Helping Hand
Need help, have a request, or found something not right? Then post a query in the forum, make a request here, or contact an admin.
Note (Refresh): Copied text is not accepted on this wiki.
Beware: This wiki does not provide spoiler warnings.
Contents  
Realmslore
Media
Crunch
Helping Out
Well met, sage! Do you see an error? Maybe you know of some missing lore? Perhaps you want to write an article about a favorite subject? Or maybe you want to really get involved. Don't be shy, click "edit" and get in there! If you're new to wikis, then check out the Wikia tutorial. Look at some of the following links to learn about the Forgotten Realms Wiki, how we do things here, and see some of our recent work. Don't worry about making a mistake, experienced editors will catch it and fix it. Just remember we accept only canon and licensed lore, not homebrew or player characters. Don't just copy out the sourcebook, write in your own words. Finally, always give a source for your information, and explain what you've done in the "summary" box. Happy scribing!
| | | |
| --- | --- | --- |
| Getting involved | Things to do | Community |