Ad blocker interference detected!
Wikia is a free-to-use site that makes money from advertising. We have a modified experience for viewers using ad blockers

Wikia is not accessible if you've made further modifications. Remove the custom ad blocker rule(s) and the page will load as expected.
Current Clack
A guest in the cloud palace of Vanguard Marchas, Lhynard nervously passed a dire lion guarding the mead hall to enter. Imbibing some luscious mead, he heard the Saga of the Dragon Queller, the epic ballad of Hjurnur Hjurgenson, composed by the great skald Hrotun, which almost brought him to tears.
Sir Whiteout returned to update the menageries with new details and artistic representations of monsters, as well as expanding on the lovable flumph, and adding creatures such as the catoblepas, death kiss, and the bizarre froghemoth.
Saya222 whispered more of the magical secrets and dark temples of the Vhaeraunites, having visited the Tower of the Masked Mage and the Vault of Cloaked Midnight and learned from the skulkers of the cruel soultheft, deceitful guise of the faithful, and the disturbing vhaerath.
Featured article
Procampur
, formerly known as Proeskampalar, was a city-state in
the Vast
, lying on the north coast of the
Sea of Fallen Stars
and the eastern shore of the
Dragon Reach
, situated at the western end of the
North Road
after
Maerstar
, and on the
High Trail
from
High Haspur
.
It was an old and established city, originally settled by dwarves from Earthfast and human refugees from Jhaamdath in the Year of the Starry Shroud, −153 DR. In its time, it prospered off trade with Westgate, was conquered by Impiltur, was nearly attacked by Cormyr, and suffered plague and dragon raids, but also warred against pirates, orcs, and hobgoblins, and Mulmaster and Sembia. It grew into a proud, enduring, and wary city, with a long heritage.
Procampur was an independent city-state, ruled by the Thultyrl, who was advised by the Hamayarch. It had a mutual defense pact with neighbouring Tsurlagol, and friendly relations with many neighbouring states. It was also the richest city on the north coast of the Inner Sea and in the Vast, famed for its jewelers and metal-smiths. The city was home to the very first Thayan enclave, the greatest temple of Oghma in the Domes of Reason, produced the great eastern explorer Vilhiard, and played host to Koja of Khazari. Procampur's most unusual feature was the districts that divided the city by function and occupation, each with their own distinct roof color. These divided the people too, giving them a rigid social structure, but they were proud, well mannered, and orderly.
Featured source
Realms of Valor
was the first anthology of short stories from the
Forgotten Realms
, published in 1993. It was edited by
James Lowder
and features stories from many contemporary authors of
Forgotten Realms
novels, as well as many of their characters, in adventures tied in to recent novels and Realms events, including a
Ravenloft
cross-over. In the Afterword,
Jeff Grubb
presents a short history of the development of the
Forgotten Realms
to that point.
It includes:
"The Lord of Lowhill" by Douglas Niles • "Elminster at the Magefair" by Ed Greenwood • "One Last Drink" by Christie Golden • "The Bargain" by Elaine Cunningham • "Patronage" by David Cook • "A Virtue by Reflection" by Scott Ciencin • "King's Tear" by Mark Anthony • "The Family Business" by James Lowder • "Grandfather's Toys" by Jean Rabe • "The Curse of Tegea" by Troy Denning • "Dark Mirror" by R. A. Salvatore
| | | |
| --- | --- | --- |
| " | From the secret annals of Realms history come eleven never-before-published tales of valor, featuring the greatest heroes of that magical world—Drizzt Do'Urden, Arilyn Moonblade, Adon, Elminster of Shadowdale, Jander Sunstar, and many others—told by your favorite authors, including: R. A. Salvatore, Ed Greenwood, Douglas Niles, Troy Denning, Christie Golden, and others. | " |
Recent releases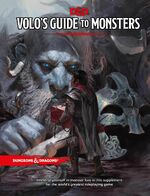 Volo's Guide to Monsters
by
Mike Mearls
,
Jeremy Crawford
,
Ed Greenwood
and others is a 5th-edition
Dungeons & Dragons
sourcebook that describes monster lore and lairs, playing monster character races, and gives the stat blocks of many monsters old and new.
"
The esteemed loremaster Volothamp Geddarm is back! He's written a fantastical dissertation, covering some of the most iconic monsters in the worlds of

Dungeons & Dragons

®. But the Sage of Shadowdale himself, Elminster, doesn't believe Volo gets some of the details quite right. Don't miss out as Volo and Elminster team up to illuminate the uninitiated on creatures both common and obscure.

Sure to inspire any Dungeon Master, this book explores the stories and lairs of various monsters. Including giants, mind flayers, orcs, and goblinoids. Players can also find rules for playing a variety of new races, including the angelic aasimar and the feline tabaxi. Also included are game statistics for scores of monsters—some new to the game, and some that hail from the game's past—which are ready to appear in D&D adventures as mighty friends or fearsome foes.

"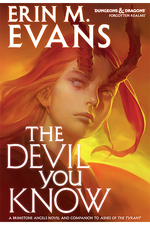 The Devil You Know
by
Erin M. Evans
is the sixth and final novel in the
Brimstone Angels series
, released October 4th 2016. It sees
Farideh
's ancestor attempting to assassinate
Asmodeus
.
"
The long-awaited finale of SCRIBE award winning-author Erin M. Evans's riveting Brimstone Angels series, featuring her signature character, Farideh, as she's caught up in an epic battle of good versus evil, rife with deception and intrigue, where the question is as much who is evil, as how they can be defeated. The stakes have never been higher, and the fallout will shake the Hells, and through them, the Forgotten Realms.

Before Farideh took a devil's pact, before she was Chosen by the god-king of the Hells, before any of this started, there was Bryseis Kakistos, the original Brimstone Angel, first of Farideh's line. Now, at the end, there is also Bryseis Kakistos—but this time, instead of helping the king of the Hells achieve godhood, she's going to kill him. All she needs is a little help from Farideh—which she should, by all accounts, be happy to give. After all, who could object to killing the king of the Hells? Except, it turns out, Farideh. Because as always, things are far more complicated than they seem.

"
 
— Amazon product listing
Today in the Realms...
...it is 6 Nightal, or the 6th of the Drawing Down. On this day:
Realmslore
And, from the archives:
Featured image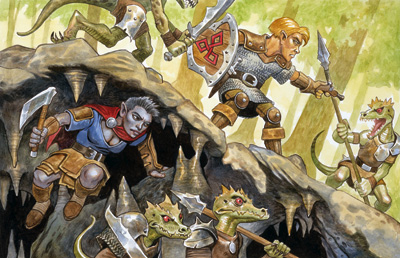 Left:
deep gnome
; right:
rock gnome
; fighting
kobolds
.
Welcome
Well met, traveler! This wiki covers the rich and popular Forgotten Realms campaign setting for Dungeons & Dragons from TSR, Inc. and Wizards of the Coast, including Realmslore from the Oriental Adventures, Al-Qadim, Maztica, The Horde, Planescape, and Spelljammmer settings, covering sourcebooks, novels, video games, comics, and more across all editions. See the aims and scope of this wiki here.
Helping Hand
Need help, have a request, or found something not right? Then post a query in the forum, make a request here, or contact an admin.
Note (Refresh): Remember to add Categories to a new article so it can be found.
Beware: This wiki does not provide spoiler warnings.
Contents  
Realmslore
Media
Crunch
Helping out
Well met, sage! Do you see an error? Maybe you know of some missing lore? Perhaps you want to write an article about a favorite subject? Or maybe you want to really get involved. Don't be shy, click "edit" and get in there! If you're new to wikis, then check out the Wikia tutorial. Look at some of the following links to learn about the Forgotten Realms Wiki, how we do things here, and see some of our recent work. Don't worry about making a mistake, experienced editors will catch it and fix it. Just remember we accept only canon and licensed lore, not homebrew or player characters. Don't just copy out the sourcebook, write in your own words. Finally, always give a source for your information, and explain what you've done in the "summary" box. Happy scribing!
| | | |
| --- | --- | --- |
| Getting involved | Things to do | Community |