Featured article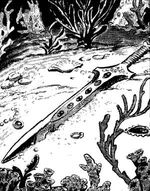 Ilbratha
, the "Mistress of Battles", was an enchanted
bloodstone
-bedecked
bronze
short sword
with a long and storied history. It had the distinction of being part of the royal regalia of two kingdoms, to be carried by their heirs: the Forest Kingdom of
Cormyr
on land and the
merfolk
kingdom of
Eadraal
in the
Inner Sea
. However, the sword was lost to both realms, its whereabouts unknown but always sought after.
To Cormyr, Ilbratha was one of the Lost Swords of State. It was commissioned by Azoun I and went with him on campaign against the kingdom of Valashar in the Year of the Leaping Hare, 376 DR. Ilbratha rallied the troops, becoming a symbol of power and of Azoun's victory over the Shoon Imperium. But it was lost in the wreck of the prince's ship, Valashar's Bane, then was rediscovered then lost, time and again.
Finally, it went under the waves again, becoming Haalorth, "the Warrior's Fang". It was swung by Tarag, a sea ogre chieftain and builder of the Axe Kingdoms. Then, famously, it was borne by the merfolk princes and princesses of Eadraal for some seven centuries, as the official Heir's Blade. Finally, in the Year of the Gauntlet, 1369 DR, the mermaid warrior princess Jian wielded it in battle against the conquering wereshark Iakhovas, until she was slain and the blade lost to history.
Featured source
Realms of Valor
was the first anthology of short stories from the
Forgotten Realms
, published in 1993. It was edited by
James Lowder
and features stories from many contemporary authors of
Forgotten Realms
novels, as well as many of their characters, in adventures tied in to recent novels and Realms events, including a
Ravenloft
cross-over. In the Afterword,
Jeff Grubb
presents a short history of the development of the
Forgotten Realms
to that point.
It includes:
"The Lord of Lowhill" by Douglas Niles • "Elminster at the Magefair" by Ed Greenwood • "One Last Drink" by Christie Golden • "The Bargain" by Elaine Cunningham • "Patronage" by David Cook • "A Virtue by Reflection" by Scott Ciencin • "King's Tear" by Mark Anthony • "The Family Business" by James Lowder • "Grandfather's Toys" by Jean Rabe • "The Curse of Tegea" by Troy Denning • "Dark Mirror" by R. A. Salvatore
| | | |
| --- | --- | --- |
| " | From the secret annals of Realms history come eleven never-before-published tales of valor, featuring the greatest heroes of that magical world—Drizzt Do'Urden, Arilyn Moonblade, Adon, Elminster of Shadowdale, Jander Sunstar, and many others—told by your favorite authors, including: R. A. Salvatore, Ed Greenwood, Douglas Niles, Troy Denning, Christie Golden, and others. | " |
Recent releases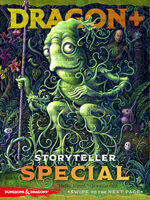 Dragon+ 16
was released on October 31st, 2017.
This issue gives interviews with Realms writers Ed Greenwood, R.A. Salvatore, Erin M. Evans, and Richard Baker, and with the developers of Idle Champions of the Forgotten Realms.
It also gives more support to Tomb of Annihilation, with extra maps to various locations in Chult and the second part of the story "Qawasha & Kupalué".
Tomb of Annihilation
is an adventure module for 5th-edition
Dungeons & Dragons
set in the
Forgotten Realms
. It sees the players explore
Chult
and pits them against the infamous
archlich
Acererak
.
"
Dare to defy death in this adventure for the world's greatest roleplaying game.

The talk of the streets and taverns has all been about the so-called death curse: a wasting disease afflicting everyone who's ever been raised from the dead. Victims grow thinner and weaker each day, slowly but steadily sliding toward the death they once denied.

When they finally succumb, they can't be raised—and neither can anyone else, regardless of whether they've ever received that miracle in the past. Temples and scholars of divine magic are at a loss to explain a curse that has affected the entire region, and possibly the entire world.

The cause is a necromantic artifact called the Soulmonger, which is located somewhere in Chult, a mysterious peninsula far to the south, ringed with mountains and choked with rainforests.

"
Today in the Realms...
...it is 18 Uktar, or the 18th of the Rotting. On this day:
Realmslore
And, from the archives:
Welcome
Well met, traveler! This wiki covers the rich and popular Forgotten Realms campaign setting for Dungeons & Dragons from TSR, Inc. and Wizards of the Coast, including Realmslore from the Oriental Adventures, Al-Qadim, Maztica, The Horde, Planescape, and Spelljammmer settings, covering sourcebooks, novels, video games, comics, and more across all editions. See the aims and scope of this wiki here.
Helping Hand
Need help, have a request, or found something not right? Then post a query in the forum, make a request here, or contact an admin.
Note (Refresh): Copied text is not accepted on this wiki.
Beware: This wiki does not provide spoiler warnings.
Contents  
Realmslore
Media
Crunch
Helping out
Well met, sage! Do you see an error? Maybe you know of some missing lore? Perhaps you want to write an article about a favorite subject? Or maybe you want to really get involved. Don't be shy, click "edit" and get in there! If you're new to wikis, then check out the Wikia tutorial. Look at some of the following links to learn about the Forgotten Realms Wiki, how we do things here, and see some of our recent work. Don't worry about making a mistake, experienced editors will catch it and fix it. Just remember we accept only canon and licensed lore, not homebrew or player characters. Don't just copy out the sourcebook, write in your own words. Finally, always give a source for your information, and explain what you've done in the "summary" box. Happy scribing!
| | | |
| --- | --- | --- |
| Getting involved | Things to do | Community |
Ad blocker interference detected!
Wikia is a free-to-use site that makes money from advertising. We have a modified experience for viewers using ad blockers

Wikia is not accessible if you've made further modifications. Remove the custom ad blocker rule(s) and the page will load as expected.