Featured article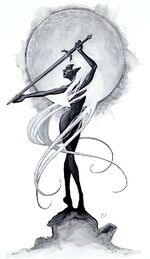 Eilistraee
was the
chaotic good
drow
goddess of song, dance, swordwork, hunting, moonlight, goodness, and beauty, within the drow pantheon known as the
Dark Seldarine
. She was the patroness and protectress of the few dark elves who longed to return to the surface and live there, at peace with other races, and to abandon the endless conflicts and intrigues that dominated the lives of most drow.
She was often referred to as the The Dark Maiden, the Lady of the Dance, or Lady Silverhair, and sometimes The Dark Dancer, among other titles. After 1375 DR, for a brief time and while her faith subsumed that of her brother, the Masked Lord Vhaeraun, she became known as The Masked Lady.
Eilistraee was the daughter of Araushnee and Corellon Larethian, a free-spirited and kind-hearted goddess, with a fiery streak in her personality. After Araushnee's treachery almost made her slay her own father when a host of evil deities assaulted Arvandor, even as she was cleared from any guilt, Eilistraee chose to share her mother's exile. She made that choice because she knew that the drow would need her light in the times to come. After the descent of the drow, Eilistraee tried her best to be a mother goddess to her people and bring them the hope of a new life: she fought to lead them back to the lands of light, helping them to flourish and prosper in harmony with all other races, free from Lolth's tyranny. Hers was an uphill battle, however, as her power was little and she was opposed by all the gods of the Dark Seldarine. But, despite having to overcome many hardships and setbacks, Eilistraee never gave up fighting for her people.
In the 1370s DR, her conflict with her mother over the souls of the drow race ultimately led to Eilistraee's defeat and temporary disappearance. It lasted for about a century, until the Second Sundering, when Eilistraee returned to life and to her followers.
Featured source
City of the Spider Queen
is an adventure module set in the
Forgotten Realms
using the
Dungeons & Dragons
3rd edition ruleset, and was designed by
James Wyatt
. It focuses on
drow
, the
Silence of Lolth
, and the cult of
Kiaransalee
, taking the PCs from the
Dordrien
crypts of
Daggerdale
through the
Underdark
to the drow outpost of
Szith Morcane
and finally the city of
Maerimydra
, to defeat the schemes of
Irae T'sarran
.
"
The Fate of Faerûn Lies in Shadowy Darkness!

Daggerdale is reeling from a sudden series of murderous drow raids. As a grave threat to the entire surface world develops in the war-torn dark elf city of Maerimydra, intrepid heroes must discover its source and destroy it, if they can.

Designed to take 10th level characters as far as 18th level, City of the Spider Queen draws the heroes into the deepest reaches of the Underdark and plunges them into an epic adventure with dire consequences.

13 new monsters
13 new magic items
16-page full-color map booklet

"
Recent releases
Frost Giant's Fury #3
by
Jim Zub
with art by
Netho Diaz
is a comic published by
IDW Publishing
in May 2017.
Set in the Spine of the World, it sees the sorceress Delina and the warrior Minsc ascend a treacherous ice-covered mountain to confront a vicious and quick-tempered white dragon as they try to uncover the plots of evil frost giants.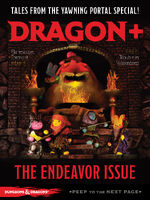 Dragon+ #13
was released on April 28th, 2017.
This issue contained a number of short fiction works to accompany the adventures in Tales from the Yawning Portal, including the Forgotten Realms–set Dead in Thay.
In addition, Volothamp Geddarm tells of Durnan and the Yawning Portal inn.
Today in the Realms...
...it is 21 Flamerule, or the 21st of Summertide. On this day:
Realmslore
And, from the archives:
Featured image

Durthans, a secret group of women opposed to the Witches of Rashemen.
Welcome
Well met, traveler! This wiki covers the rich and popular Forgotten Realms campaign setting for Dungeons & Dragons from TSR, Inc. and Wizards of the Coast, including Realmslore from the Oriental Adventures, Al-Qadim, Maztica, The Horde, Planescape, and Spelljammmer settings, covering sourcebooks, novels, video games, comics, and more across all editions. See the aims and scope of this wiki here.
Helping Hand
Need help, have a request, or found something not right? Then post a query in the forum, make a request here, or contact an admin.
Note (Refresh): Player characters are not accepted on this wiki.
Beware: This wiki does not provide spoiler warnings.
Contents  
Realmslore
Media
Crunch
Helping out
Well met, sage! Do you see an error? Maybe you know of some missing lore? Perhaps you want to write an article about a favorite subject? Or maybe you want to really get involved. Don't be shy, click "edit" and get in there! If you're new to wikis, then check out the Wikia tutorial. Look at some of the following links to learn about the Forgotten Realms Wiki, how we do things here, and see some of our recent work. Don't worry about making a mistake, experienced editors will catch it and fix it. Just remember we accept only canon and licensed lore, not homebrew or player characters. Don't just copy out the sourcebook, write in your own words. Finally, always give a source for your information, and explain what you've done in the "summary" box. Happy scribing!
| | | |
| --- | --- | --- |
| Getting involved | Things to do | Community |
Ad blocker interference detected!
Wikia is a free-to-use site that makes money from advertising. We have a modified experience for viewers using ad blockers

Wikia is not accessible if you've made further modifications. Remove the custom ad blocker rule(s) and the page will load as expected.