Current Clack
After writing a biography of Congenio Ioun and detailing some unique and storied ioun stones, BadCatMan begins to study Kara-Turan faiths, beginning with the Way and the Immortal Chan Cheng. In Wa and Kozakura, the man with no name, unknown user 11, infiltrates the secret societies of the Many-Hued Peacock and the Iridescent Peacock, revealing members like Nan-Kuo and Obuno Yoshigi. Meanwhile, Artemaz journeys the Shining Lands, detailing more of the mercantile chakas, and purchases a field glass to survey such sights as the Bay of Kings and the city of Flyndagol, among others.
In between obsessive-compulsively folding and unfolding the maps, shuffling them into a more useful hierarchy of categories, Moviesign follows in the footsteps of Volo by publishing dangerous magics, currently exposing the prayers of the Frostmaiden from her book Revelations of the Icedawn. In his classification of spells of the Realms, Daranios is caught up in a storm of wild magic, but pins down Nahal's reckless dweomer and Hornung's surge selector.
Today in the Realms...
...it is 28 Mirtul, or the 28th of the Melting. On this day:
Featured article
Dethek
was a runic script used by
dwarves
and a few other
humanoid
races to record language, usually by engraving stone or fine metal. Its runes were constructed from straight lines for easier carving in hard surfaces. There were runes for letters and numbers, as well as ideograms for certain ideas and concepts, but Dethek lacked punctuation.
The Dethek alphabet was transliterated like so:
The use of runes for writing dated back to the beginning of recorded history in Faerûn. One example of the spread of Dethek use was between the gold dwarves of the Great Rift and the people of Unther. Close association and trade led to the adoption of Dethek for recording the Untheric language. The Dethek system of writing went on to become the most widespread and popular runic script by the 14th century DR.
Featured source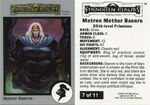 The
AD&D Trading Cards
are a range of trading cards published by
TSR, Inc.
between 1991 and 1993. They were first introduced by
James Ward
in
Dragon #160
, with an insert of 17 cards, mostly based on popular characters from various
AD&D
novels and video games, and were intended to test the waters for a potential trading card product line. These proved popular, and more cards were produced. They were released in three separate yearly sets, and each set consisted of two different series. The 1992 and 1993 sets include additional promotional and rare cards.
The cards adhere to 2nd-edition Advanced Dungeons & Dragons rules, and present popular characters, creatures, and items from many of TSR's game worlds, including the Forgotten Realms, Dark Sun, and Greyhawk settings, as well as new creations found nowhere else. The front of each card features artwork either re-used from other TSR products or original to the Trading Cards range. These images were outlined by a solid color that indicated series and rarity. The backs presented short blurbs and rules information.
Recent releases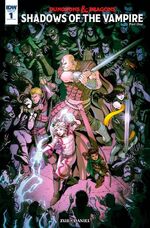 Shadows of the Vampire part 1
is a comic written by
Jim Zub
and drawn by
Nelson Dunbar
, released by
IDW Publishing
in May 2016.
Mysterious forces draw Delina, Shandie, and Krydle, together with Minsc and Boo, into the Demiplane of Dread, where they find themselves pitted against undead horrors, in a crossover with the Ravenloft campaign setting.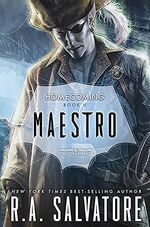 Maestro
by
R.A. Salvatore
is the latest novel penned by the prolific Realms author and follows on immediately from his previous book,
Archmage
. In it,
Bruenor Battlehammer
and
Drizzt Do'Urden
lead the army of reclaimed
Gauntlgrym
against
Menzoberranzan
while
Catti-brie
and Menzoberranzan's archmage
Gromph Baenre
head to
Luskan
in an attempt to keep the
primordial
Maegera
contained.
Realmslore
And, from the archives:
Featured image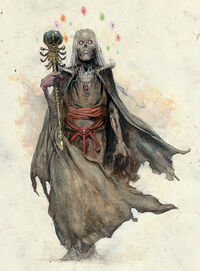 Larloch, the Shadow King of Warlock's Crypt.
Welcome
Well met, traveler! This wiki covers the rich and popular Forgotten Realms campaign setting for Dungeons & Dragons from TSR, Inc. and Wizards of the Coast, including Realmslore from the Oriental Adventures, Al-Qadim, Maztica, The Horde, Planescape, and Spelljammmer settings, covering sourcebooks, novels, video games, comics, and more across all editions. See the aims and scope of this wiki here.
Helping Hand
Need help, have a request, or found something not right? Then post a query in the forum, make a request here, or contact an admin.
Note (Refresh): Copied text is not accepted on this wiki.
Beware: This wiki does not provide spoiler warnings.
Contents  
Realmslore
Media
Crunch
Helping out
Well met, sage! Do you see an error? Maybe you know of some missing lore? Perhaps you want to write an article about a favorite subject? Or maybe you want to really get involved. Don't be shy, click "edit" and get in there! If you're new to wikis, then check out the Wikia tutorial. Look at some of the following links to learn about the Forgotten Realms Wiki, how we do things here, and see some of our recent work. Don't worry about making a mistake, experienced editors will catch it and fix it. Just remember we accept only canon and licensed lore, not homebrew or player characters. Don't just copy out the sourcebook, write in your own words. Finally, always give a source for your information, and explain what you've done in the "summary" box. Happy scribing!
| | | |
| --- | --- | --- |
| Getting involved | Things to do | Community |