Featured article
Earthfast
was a
shield dwarven
city in the
Earthfast Mountains
between
Impiltur
and
the Vast
, stretching from a high mountain valley down to the
Earthroot
area of the
Underdark
. It was a war-torn place, under constant siege from
orcs
and
goblins
in the 14th century
DR
. Though much of the city was abandoned, it was home to
Alagh Rorncaurak
, the Battlecavern of Unquenched Valor, a vast chasm and natural cathedral to the god
Clangeddin Silverbeard
and a key defense of the city.
Unending war took a terrible toll on the dwarves. Many women and children were slain, leaving men who all honored their parents as war-heroes. Earthfast dwarves were battle-hardened veterans, grim and moody sorts who worked and fought in utter silence, seeing stealth as a virtue and vital defense. They were even head-hunters, seizing the skulls of foes and stacking them in tidy pyramids in a great cavern. The greater the foe, the better the skull.
Nevertheless, Earthfast was an honorable ally who would still come to another's aid. They were allies of Impiltur early in its history. Centuries later, after befriending the renegade "Mithril Princess" Alusair of Cormyr, who helped break the siege, Earthfast dwarves joined King Azoun IV in his Crusade against the Tuigan Horde, defending and saving all of Faerûn at high cost to themselves.
Featured source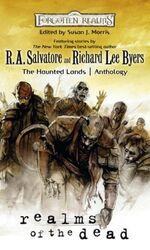 Realms of the Dead
was an anthology of short stories from the
Forgotten Realms
, and the last published anthology of original tales to date. It accompanied the
The Haunted Lands
trilogy by
Richard Lee Byers
, and had stories spanning both sides of the setting-changing
Spellplague
. It was published in January 2010 and edited by
Susan J. Morris
.
"
Not even the mightiest mage, working spells that remain utterly reliable, can hope to prevail against dozens of tireless, ruthless UNDEAD who suffer no pain and can be distracted by nothing.

Every creature on Faerûn has its dark mirror in the undead—from the ghosts of ancient warriors to the rune-scribed skeletons of dragons. And in a world with as rich and bloody a history as the Forgotten Realms, they are legion—outshining the living in variety and number.

Here are a dozen of the most terrifying tales of the haunted Realms.

"
Recent releases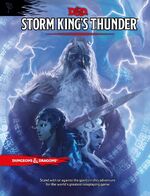 Storm King's Thunder
is an adventure module released in September 2016, designed for 5th-edition
Dungeons & Dragons
and set in the
Forgotten Realms
. Taking place in the
Savage Frontier
and
the North
after
1485 DR
, it sees adventurers of levels 1–10 struggle against an uprising of
giants
.
"
To Fight Giants, You Must Be Giant

Ages ago, giants and dragons waged war across the Savage Frontier. These battles are long forgotten by the human civilizations of today, but ancient relics remain. And now, the land shudders once more with the thunder of giant footsteps.

Hill giants raid farms for food and livestock, as stone giants lay waste to settlements in their path. Frost giants plunder coastal towns, as fire giants gather slaves. Cloud giant castles drift across the sky, casting ominous shadows on the cities of the North. But no threat compares to the wrath of the storm giants, who stand betrayed.

Puny adventurers must rise to the challenge, gather their strength, unlock the power of ancient runes, and take the fight to the giants' doorsteps. Only then can they discover a hidden evil fomenting a war between giants and small folk. Only then can they forge an alliance to end the war before it begins.

"
Today in the Realms...
...it is 30 Eleint, or the 30th of the Fading. On this day:
Realmslore
And, from the archives:
Featured image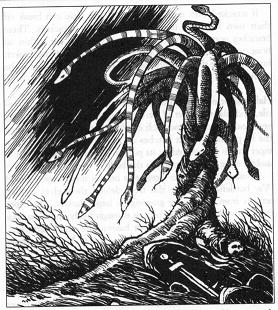 A
viper tree
.
Welcome
Well met, traveler! This wiki covers the rich and popular Forgotten Realms campaign setting for Dungeons & Dragons from TSR, Inc. and Wizards of the Coast, including Realmslore from the Oriental Adventures, Al-Qadim, Maztica, The Horde, Planescape, and Spelljammmer settings, covering sourcebooks, novels, video games, comics, and more across all editions. See the aims and scope of this wiki here.
Helping Hand
Need help, have a request, or found something not right? Then post a query in the forum, make a request here, or contact an admin.
Note (Refresh): Write in past tense and provide dates.
Beware: This wiki does not provide spoiler warnings.
Contents  
Realmslore
Media
Crunch
Helping out
Well met, sage! Do you see an error? Maybe you know of some missing lore? Perhaps you want to write an article about a favorite subject? Or maybe you want to really get involved. Don't be shy, click "edit" and get in there! If you're new to wikis, then check out the Wikia tutorial. Look at some of the following links to learn about the Forgotten Realms Wiki, how we do things here, and see some of our recent work. Don't worry about making a mistake, experienced editors will catch it and fix it. Just remember we accept only canon and licensed lore, not homebrew or player characters. Don't just copy out the sourcebook, write in your own words. Finally, always give a source for your information, and explain what you've done in the "summary" box. Happy scribing!
| | | |
| --- | --- | --- |
| Getting involved | Things to do | Community |