Featured article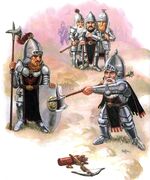 Earthfast
was a
shield dwarven
city in the
Earthfast Mountains
between
Impiltur
and
the Vast
, stretching from a high mountain valley down to the
Earthroot
area of the
Underdark
. It was a war-torn place, under constant siege from
orcs
and
goblins
in the 14th century
DR
. Though much of the city was abandoned, it was home to
Alagh Rorncaurak
, the Battlecavern of Unquenched Valor, a vast chasm and natural cathedral to the god
Clangeddin Silverbeard
and a key defense of the city.
Unending war took a terrible toll on the dwarves. Many women and children were slain, leaving men who all honored their parents as war-heroes. Earthfast dwarves were battle-hardened veterans, grim and moody sorts who worked and fought in utter silence, seeing stealth as a virtue and vital defense. They were even head-hunters, seizing the skulls of foes and stacking them in tidy pyramids in a great cavern. The greater the foe, the better the skull.
Nevertheless, Earthfast was an honorable ally who would still come to another's aid. They were allies of Impiltur early in its history. Centuries later, after befriending the renegade "Mithril Princess" Alusair of Cormyr, who helped break the siege, Earthfast dwarves joined King Azoun IV in his Crusade against the Tuigan Horde, defending and saving all of Faerûn at high cost to themselves.
Featured source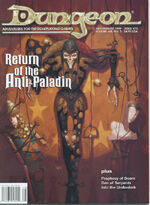 Dungeon magazine #75
was the 75th issue of
Dungeon magazine
. It was released in July 1999.
It contains the Realms adventure "Into the Nest of Vipers", by Matthew G. Adkins, with artwork by Fred Rawles and cartography by Craig Zipse.
| | | |
| --- | --- | --- |
| " | A Priest of Talona has concocted the deadliest poison, and this Assassin's Guild is willing to kill for it. | " |
This adventure is set in the Vast in 1369 DR, using 2nd edition rules. Calispar Delgorth, a priest of Talona, works with the Vipers bandit gang from their hideout in the Brynwood to test a magic-resistant poison on the people of the hamlet of Sevenecho. Adventurers are asked by High Priest Randolph dul Umast of the local temple of Tymora, The Lady's Favor, to brave the Brynwood and seek a cure for the poison.
Recent releases
Tomb of Annihilation
is an adventure module for 5th-edition
Dungeons & Dragons
set in the
Forgotten Realms
. It sees the players explore
Chult
and pits them against the infamous
archlich
Acererak
.
"
Dare to defy death in this adventure for the world's greatest roleplaying game.

The talk of the streets and taverns has all been about the so-called death curse: a wasting disease afflicting everyone who's ever been raised from the dead. Victims grow thinner and weaker each day, slowly but steadily sliding toward the death they once denied.

When they finally succumb, they can't be raised—and neither can anyone else, regardless of whether they've ever received that miracle in the past. Temples and scholars of divine magic are at a loss to explain a curse that has affected the entire region, and possibly the entire world.

The cause is a necromantic artifact called the Soulmonger, which is located somewhere in Chult, a mysterious peninsula far to the south, ringed with mountains and choked with rainforests.

"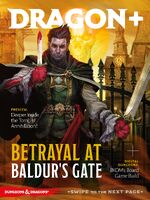 Dragon+ #15
was released on August 31, 2017.
The issue presents more previews to the just-released adventure Tomb of Annihilation, as well as to the associated board game, the Tales from Candlekeep: Tomb of Annihilation video game, and module for the Neverwinter video game. It even includes maps and travel posts for Chult.
It also gives a sample of the Frost Giant's Fury #4 comic and the first part of the short story "Qawasha & Kupalue" by Adam Lee.
Today in the Realms...
...it is 19 Eleint, or the 19th of the Fading.   
Realmslore
And, from the archives:
Featured image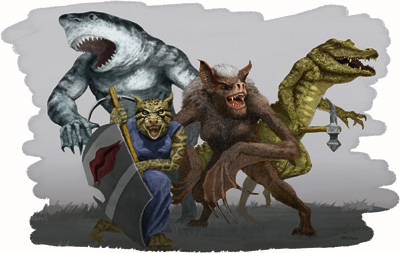 A wereshark, werecat, werebat, and a werecrocodile.
Welcome
Well met, traveler! This wiki covers the rich and popular Forgotten Realms campaign setting for Dungeons & Dragons from TSR, Inc. and Wizards of the Coast, including Realmslore from the Oriental Adventures, Al-Qadim, Maztica, The Horde, Planescape, and Spelljammmer settings, covering sourcebooks, novels, video games, comics, and more across all editions. See the aims and scope of this wiki here.
Helping Hand
Need help, have a request, or found something not right? Then post a query in the forum, make a request here, or contact an admin.
Note (Refresh): All editions are accepted equally.
Beware: This wiki does not provide spoiler warnings.
Contents  
Realmslore
Media
Crunch
Helping out
Well met, sage! Do you see an error? Maybe you know of some missing lore? Perhaps you want to write an article about a favorite subject? Or maybe you want to really get involved. Don't be shy, click "edit" and get in there! If you're new to wikis, then check out the Wikia tutorial. Look at some of the following links to learn about the Forgotten Realms Wiki, how we do things here, and see some of our recent work. Don't worry about making a mistake, experienced editors will catch it and fix it. Just remember we accept only canon and licensed lore, not homebrew or player characters. Don't just copy out the sourcebook, write in your own words. Finally, always give a source for your information, and explain what you've done in the "summary" box. Happy scribing!
| | | |
| --- | --- | --- |
| Getting involved | Things to do | Community |
Ad blocker interference detected!
Wikia is a free-to-use site that makes money from advertising. We have a modified experience for viewers using ad blockers

Wikia is not accessible if you've made further modifications. Remove the custom ad blocker rule(s) and the page will load as expected.