Current Clack
The Forgotten Realms Wiki recently jumped in Wikia's Wiki Activity Monitor, achieving a peak WAM Score of almost 98% and ranks of 33rd best wiki of the Games category and 69th best wiki overall. Meanwhile, we currently receive an average of 124,000 views a day across the wiki, with over 1300 visits to the Main Page.
Daranios at long last finished his delve into the Netherese Fields of Mythal by listing all extant variations. Now he aspires to even higher goals, peeking into godly realms like the Great Mother's Garden, while still looking at spell inventions like that of polymorph self from time to time.
After a prolonged hiatus, Artemaz explored the fledgling nation of Yaïmmunahar within the vast expanse of the Hordelands. He was impressed with Hubadai Khahan's efforts to establish the capital of Kourmira as a prominent center for trade.
BadCatMan visited the picturesque garden city of Loudwater. He tried to enjoy some mist cheese at the chaotic Merry Mer-She, failed to get some peace at the Enchanter's Ecstasy inn, and couldn't visit the rumored crypts beneath the High Lord's Hall. It was a pleasant place regardless.
We welcomed Nerdbrarian who wrote of some legendary holy books of the Realms: The Argyr, the Balance of Belaros, the Black Book, and the Book of Fangs and Talons—some of which aren't even books.
Once again, we recommend using the Source Editor. The default Visual Editor doesn't work well with our templates and doesn't show our notices. The Source Editor shows you the raw wiki code (actually very simple and obvious) and how everything works, and is much quicker and easier. Find a page to improve and try it now!
Featured article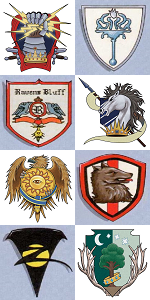 The Heralds of Faerûn, or simply the Heralds, were a quasi-independent group of historians and heraldists that took on the responsibility of recording, preserving, and policing the coats of arms, flags, standards, shields, badges, mottoes, symbols, and sigils of armigerous individuals, families, houses, kingdoms, cities, organizations, and mercantile and mercenary companies across most of Faerûn.
Founded in the Year of the Watching Helm, 992 DR, as part of the Harpers, it eventually became difficult for the Heralds to maintain their neutrality and uphold their reputation for impartiality, so they split from the Harpers in the Year of the Empty Scabbard, 1116 DR. The Heralds policed themselves rigorously, removing members who abused their position of power, even reluctantly resorting to assassination in the most egregious cases of corruption. As a result, the Heralds' influence and recognition spread to cover almost every corner of Faerûn west of Thay.
The organization was led by a small council known as the High Heralds, and their apprentices and assistants were called the Heralds Pursuivant. Below these were the many local Heralds in almost every town of adequate size, and the "court heralds" that performed diplomatic services for their sovereign while trying to uphold the ideals of the Heralds. Together they formed a vast information gathering network that was frustratingly difficult to thwart.
Featured source
Realms of Valor
was the first anthology of short stories from the
Forgotten Realms
, published in 1993. It was edited by
James Lowder
and features stories from many contemporary authors of
Forgotten Realms
novels, as well as many of their characters, in adventures tied in to recent novels and Realms events, including a
Ravenloft
cross-over. In the Afterword,
Jeff Grubb
presents a short history of the development of the
Forgotten Realms
to that point.
It includes:
"The Lord of Lowhill" by Douglas Niles • "Elminster at the Magefair" by Ed Greenwood • "One Last Drink" by Christie Golden • "The Bargain" by Elaine Cunningham • "Patronage" by David Cook • "A Virtue by Reflection" by Scott Ciencin • "King's Tear" by Mark Anthony • "The Family Business" by James Lowder • "Grandfather's Toys" by Jean Rabe • "The Curse of Tegea" by Troy Denning • "Dark Mirror" by R. A. Salvatore
| | | |
| --- | --- | --- |
| " | From the secret annals of Realms history come eleven never-before-published tales of valor, featuring the greatest heroes of that magical world—Drizzt Do'Urden, Arilyn Moonblade, Adon, Elminster of Shadowdale, Jander Sunstar, and many others—told by your favorite authors, including: R. A. Salvatore, Ed Greenwood, Douglas Niles, Troy Denning, Christie Golden, and others. | " |
Recent releases
Tomb of Annihilation
is an adventure module for 5th-edition
Dungeons & Dragons
set in the
Forgotten Realms
. It sees the players explore
Chult
and pits them against the infamous
archlich
Acererak
.
"
Dare to defy death in this adventure for the world's greatest roleplaying game.

The talk of the streets and taverns has all been about the so-called death curse: a wasting disease afflicting everyone who's ever been raised from the dead. Victims grow thinner and weaker each day, slowly but steadily sliding toward the death they once denied.

When they finally succumb, they can't be raised—and neither can anyone else, regardless of whether they've ever received that miracle in the past. Temples and scholars of divine magic are at a loss to explain a curse that has affected the entire region, and possibly the entire world.

The cause is a necromantic artifact called the Soulmonger, which is located somewhere in Chult, a mysterious peninsula far to the south, ringed with mountains and choked with rainforests.

"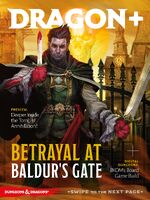 Dragon+ #15
was released on August 31, 2017.
The issue presents more previews to the just-released adventure Tomb of Annihilation, as well as to the associated board game, the Tales from Candlekeep: Tomb of Annihilation video game, and module for the Neverwinter video game. It even includes maps and travel posts for Chult.
It also gives a sample of the Frost Giant's Fury #4 comic and the first part of the short story "Qawasha & Kupalue" by Adam Lee.
Today in the Realms...
...it is 21 Marpenoth, or the 21st of Leaffall. On this day:
Realmslore
And, from the archives:
Featured image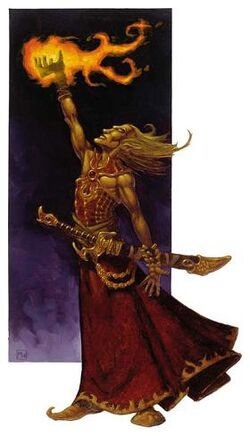 An elven arcane devotee of Kossuth the Firelord.
Welcome
Well met, traveler! This wiki covers the rich and popular Forgotten Realms campaign setting for Dungeons & Dragons from TSR, Inc. and Wizards of the Coast, including Realmslore from the Oriental Adventures, Al-Qadim, Maztica, The Horde, Planescape, and Spelljammmer settings, covering sourcebooks, novels, video games, comics, and more across all editions. See the aims and scope of this wiki here.
Helping Hand
Need help, have a request, or found something not right? Then post a query in the forum, make a request here, or contact an admin.
Note (Refresh): Provide a source (including page number) when adding lore.
Beware: This wiki does not provide spoiler warnings.
Contents  
Realmslore
Media
Crunch
Helping out
Well met, sage! Do you see an error? Maybe you know of some missing lore? Perhaps you want to write an article about a favorite subject? Or maybe you want to really get involved. Don't be shy, click "edit" and get in there! If you're new to wikis, then check out the Wikia tutorial. Look at some of the following links to learn about the Forgotten Realms Wiki, how we do things here, and see some of our recent work. Don't worry about making a mistake, experienced editors will catch it and fix it. Just remember we accept only canon and licensed lore, not homebrew or player characters. Don't just copy out the sourcebook, write in your own words. Finally, always give a source for your information, and explain what you've done in the "summary" box. Happy scribing!
| | | |
| --- | --- | --- |
| Getting involved | Things to do | Community |
Ad blocker interference detected!
Wikia is a free-to-use site that makes money from advertising. We have a modified experience for viewers using ad blockers

Wikia is not accessible if you've made further modifications. Remove the custom ad blocker rule(s) and the page will load as expected.