Current Clack
We hear surprise news of the upcoming Dungeons & Dragons movie, which has a new studio and a 2021 release date, but nothing else is certain now.
Lhynard has emerged from the chilly north, having explored the Frozen Sea. He catalogued the fauna of the cold lands, including brantas, elk, wolverines, and the dreaded glacier skunk (which he may not want to talk about).
Zeromaru X, meanwhile, went into the north, now touring Neverwinter. He documented the great city's history and the ruling Alagondar and Neverember families from the safety of the Protector's Enclave and the Graycloaks.
Returning to the west, BadCatMan came to Ormpur, telling of the city-state's bloody history and cultivation of saffron. He then took the Lapal Way through Lapaliiya, visiting Lushpool (finding to his surprise its hanging gardens concealed many snakes), making a detour to Uzurr (where he began on the wiki years before), and ending at Sammaresh. He joined the pilgrims to the Abbey of Tharynd, learning of the moon goddess Selûne and her clergy.
We welcome Regis87, who emerged from among the ogres and pirates of Golden Cove to add a whopping number of Dragon magazines to the library and many classic video games, including the Eye of the Beholder series, Savage Frontier series, and Pool of Radiance series.
If you want to edit, go right ahead, but we recommend using the Source Editor. The default Visual Editor doesn't work well with our templates or show our help notices. The Source Editor uses the raw wiki code (actually very simple and obvious), showing you how everything works, and is much quicker and easier. Better still, make an account and make it your default editor.
Featured article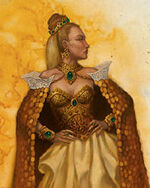 Waukeen was the goddess of commerce for much of the continent of Faerûn. She was known as the Merchant's Friend for her guiding hand in all forms of commerce (legal and otherwise); as Liberty's Maiden for her support of free and fair trade through honest bargaining based on supply and demand; and as the Golden Lady for her unabashed belief in the accumulation of wealth and, most importantly, the use of those riches to improve civilization for everyone. She was a relatively young deity, driven to accomplish her goals quickly and completely so she could move on to the next one. This impatient streak often led her to try alternate methods when "business as usual" resulted in an impasse, and manifested itself in her church which sometimes let the ends justify the means.
Her stubbornness likely led to her downfall during the Time of Troubles when she, like almost every other deity in the Faerûnian pantheon, was cast down to Toril and forced to inhabit the Prime Material Plane in avatar form. She joined up with Lliira and hatched a plan to get back to her realm in the Outlands, first by attempting to bribe Helm, who was guarding the Celestial Staircase, and then by striking a bargain with an archfiend of the Abyss, Lord Graz'zt. Unable to leave Toril in divine form, she temporarily bequeathed her divinity and portfolio to Lliira, only to be betrayed by Graz'zt and held prisoner for twelve years. During her long absence, not even Lliira knew her whereabouts and the church of Waukeen began to decline rapidly.
Featured source
Shadowdale: The Scouring of the Land
, designed by
Richard Baker
,
Eric L. Boyd
and
Thomas M. Reid
, is an adventure module set in the
Forgotten Realms
using the
Dungeons & Dragons
3.5 edition ruleset. It takes PCs through an invasion of
Shadowdale
in
1375 DR
by forces of
Zhentil Keep
, the church of
Shar
, and the
drow
of
Maerimydra
, as part of an assault upon the goddess
Mystra
and her
Weave
of
magic
. It is the second of a three-part super-adventure detailing the end of the 3.5 edition setting, but it can be played independently.
"
Shadowdale lies conquered! Who can free this oppressed land?

Zhentish soldiers, Maerimydran drow, and Sharran cultists have forged a dark alliance to subjugate the peaceful land of Shadowdale. Elminster's tower lies in ruins, Lord Amcathra governs at the sufferance of the dale's conquerors, and the very Weave of magic in this embattled land seems to fray with each passing day. The Zhentish yoke lies heavy over Shadowdale—but the Dalesfolk are ready to fight for their freedom, if only they can find true heroes to lead the way!

This FORGOTTEN REALMS® campaign adventure is designed for characters of levels 9–13. It can be played as a stand-alone adventure or as the second adventure in a three-part series. Each encounter contains tactical information for the Dungeon Master and expanded map features for ease of play.

"
Recent releases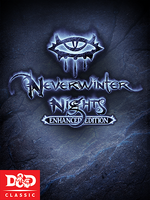 Neverwinter Nights: Enhanced Edition
is a remastered version of the classic computer game
Neverwinter Nights
from 2002, as well as its expansions
Shadows of Undrentide
and
Hordes of the Underdark
, as well as other premium modules set in the
Forgotten Realms
.
It applies numerous technological improvements, such as updated graphics and multiplayer support; new tools for custom module creation; and countless patches.
| | | |
| --- | --- | --- |
| " | Return to the Forgotten Realms in this bestselling Dungeons & Dragons roleplaying game. Combines all the content of Neverwinter Nights Diamond Edition with all-new enhanced features. Includes 100+ hours of award-winning adventures and the tools to create your own! | " |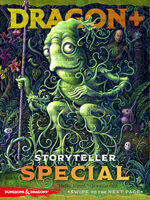 Dragon+ 16
was released on October 31st, 2017.
This issue gives interviews with Realms writers Ed Greenwood, R.A. Salvatore, Erin M. Evans, and Richard Baker, and with the developers of Idle Champions of the Forgotten Realms.
It also gives more support to Tomb of Annihilation, with extra maps to various locations in Chult and the second part of the story "Qawasha & Kupalué".
Today in the Realms...
...it is 22 Hammer, or the 22nd of Deepwinter. On this day:
Worshipers of Tyr perform the ritual of the Blinding at which an illusion of a giant pair of eyes appears above the congregation and then sheds flaming tears until they drain away to nothing.
Realmslore
And, from the archives:
Welcome
Well met, traveler! This wiki covers the rich and popular Forgotten Realms campaign setting for Dungeons & Dragons from TSR, Inc. and Wizards of the Coast, including Realmslore from the Oriental Adventures, Al-Qadim, Maztica, The Horde, Planescape, and Spelljammmer settings, covering sourcebooks, novels, video games, comics, and more across all editions. See the aims and scope of this wiki here.
Helping Hand
Need help, have a request, or found something not right? Then post a query in the forum, make a request here, or contact an admin.
Note (Refresh): Remember to add Categories to a new article so it can be found.
Beware: This wiki does not provide spoiler warnings.
Contents  
Realmslore
Media
Crunch
Helping out
Well met, sage! Do you see an error? Maybe you know of some missing lore? Perhaps you want to write an article about a favorite subject? Or maybe you want to really get involved. Don't be shy, click "edit" and get in there! If you're new to wikis, then check out the Wikia tutorial. Look at some of the following links to learn about the Forgotten Realms Wiki, how we do things here, and see some of our recent work. Don't worry about making a mistake, experienced editors will catch it and fix it. Just remember we accept only canon and licensed lore, not homebrew or player characters. Don't just copy out the sourcebook, write in your own words. Finally, always give a source for your information, and explain what you've done in the "summary" box. Happy scribing!
| | | |
| --- | --- | --- |
| Getting involved | Things to do | Community |
Ad blocker interference detected!
Wikia is a free-to-use site that makes money from advertising. We have a modified experience for viewers using ad blockers

Wikia is not accessible if you've made further modifications. Remove the custom ad blocker rule(s) and the page will load as expected.