This article has no clear connection to the Forgotten Realms.
Please help improve this article by adding appropriate information or clarifying the relationship. This article has been tagged since 00:42, May 26, 2015 (UTC). If you are using this information for your own research, campaign, or general interest, you should not rely on its relevance.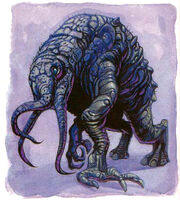 A
mozgriken
was an
illithid
tadpole inserted into a
svirfneblin
gnome
then subjected to a dangerous psionic ritual. These three-tentacled ceremorphs were despised by all, but their aptitude for stealth and psionic powers of shape control made them useful spies for the illithids.
[1]
References
Edit
Connections
Edit