This article does not cite its references or sources.
Please help improve this article by introducing appropriate citations. This article has been tagged since 17:12, April 13, 2013 (UTC). If you are using this information for your own research, campaign or general interest, you should not rely on its accuracy.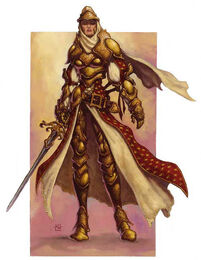 Neutral good characters desire good without bias for or against order. In 4th edition mechanics for Dungeons & Dragons neutral good is found under the umbrella of the good alignment.
A neutral good character does good for goodness' sake, not because he is directed to by law or by whim. Such a character will obey the law, or break it when he sees that it will serve a greater good. He isn't bound strongly to a social system or order. His need to help others and reduce suffering may take precedence over all else.
A doctor who treats both sides in a fight and somebody who feeds the starving in a war zone are both examples of neutral good characters.
Characters
Edit
Some characters in the Forgotten Realms setting identified as Neutral Good include:

Alusair Obarskyr
Bruenor Battlehammer
Cadderly Bonaduce
Montolio Debrouchee
Myrmeen Lhal
Tessarin Alaurun
Khalid
Imoen
Liriel Baenre