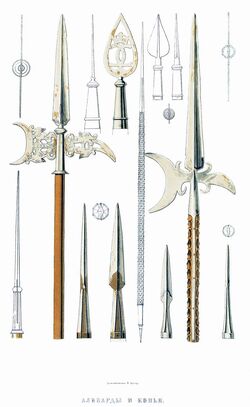 A spear is a simple two-handed melee weapon in the pole arm family.[1]
Description
Edit
A spear can be made of any rigid material but is typically a straight shaft made of wood. The piercing tip of the spear can be formed by just sharpening the shaft to a point or attaching a variety of spearheads made from metal (usually iron, bronze, or steel), stone (such as flint or obsidian), rock crystal, ivory, and even coral. The length of a spear can vary from 5 to 13 feet (1.5 to 4 meters) or more,[2] but a typical spear is approximately 6 to 8 feet (1.8 to 2.4 meters) or about the size of a quarterstaff and slightly smaller in diameter. An average spear with a metal spearhead costs 1gp and weighs 6lbs (2.7kg).[3]
See also: Shortspear, Longspear, and Pole arm#Spears
Weaponology
Edit
The spear is one of the simplest and oldest weapons in existence. Spears are typically wielded with two hands but shortspears can be used one-handed. Spears are not usually intended to be thrown because it leaves you without a weapon, but shortspears and regular spears can be thrown if necessary. When set against a charging opponent, a spear can do double the damage of a regular melee attack.[4]
Realmslore
Edit
Spears are used by almost every race and especially goblinoids and orcs. Many warriors call it a coward's weapon (as with all pole and ranged weapons), but it has proven itself on the battlefield.
Notable spears
Edit
References
Edit
Ad blocker interference detected!
Wikia is a free-to-use site that makes money from advertising. We have a modified experience for viewers using ad blockers

Wikia is not accessible if you've made further modifications. Remove the custom ad blocker rule(s) and the page will load as expected.