Trumpet archons were a celestial beings that lived primarily on the slopes of Celestia.[2]
Physical description
Edit
A trumpet archon appeared as a beautiful humanoid being with pale skin, white hair and feathered wings[1], with eyes the color of gleaming pearls.
They cast divine magic spells and could access the Air, Destruction, Good, Law, and War domains, in addition to any others granted by their sovereign deity.[3]
Equipment
Edit
Each trumpet archon carried a gleaming silver trumpet about 6 ft. (1.83 m) long, often adorned with the symbol of their patron deity. This trumpet could transform into a magical greatsword at the whim of its bearer.[3]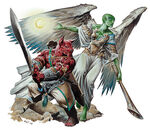 Trumpet archons served as the messengers of the gods of good and the heralds of the heavenly armies. When the gods of the heavenly realms required mortals to know their will, they sent forth a trumpet archon to deliver the message.[1]
Notable trumpet archons
Edit
Appearances
Edit
References
Edit
Connections
Edit