This article has no clear connection to the Forgotten Realms.
Please help improve this article by adding appropriate information or clarifying the relationship. This article has been tagged since Darkwynters (talk) 01:18, May 26, 2015 (UTC). If you are using this information for your own research, campaign, or general interest, you should not rely on its relevance.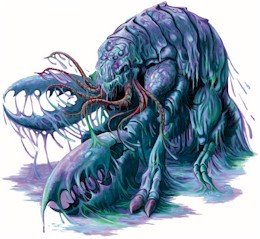 An uchuulon is a chuul implanted with an illithid tadpole. They are also known as slime chuuls and illithids use them as hunters and guardians.
References
Edit