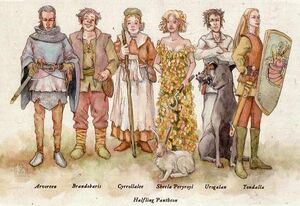 Yondalla's Children was the collective name for the halfling pantheon, which was led by the greater deity Yondalla,[1] known as the Protector and Provider, the Nurturing Matriarch, and the Blessed One.[2] The members of the pantheon were:
In addition, the traditionally human goddess of luck Tymora has slowly been accepted among the ranks of the Pantheon.[3]
According to the Great Wheel cosmology model, Yondalla's Children resided in Venya, the third layer of the Seven Heavens, which they named the Green Fields.[4] When the World Tree cosmology model became popular, Green Fields became its own plane connected to the World Tree.[5] Green Fields survived the Spellplague to float in the Astral Sea as described by the World Axis cosmology model.[6]
References
Edit
Ad blocker interference detected!
Wikia is a free-to-use site that makes money from advertising. We have a modified experience for viewers using ad blockers

Wikia is not accessible if you've made further modifications. Remove the custom ad blocker rule(s) and the page will load as expected.